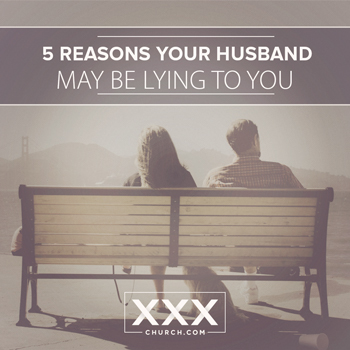 Over the years I've come to recognize a few things that are pretty consistent when it comes to those who struggle with porn addiction (specifically men, for the purposes of this post). Things that I know not only from helping those who are addicted, but also from what I saw and did myself when I was addicted.
One of those things is this: pornography addiction makes men liars. (Tweet This!)
Now, please do not take this as a statement of condemnation. Remember, I'm talking from personal experience here.
But it is true. Pornography addiction has the ability to turn honest men into some of the worst liars. By its very nature, porn addiction needs secrecy and shame to breathe and thrive.
Unfortunately, the ones who get lied to the most are usually the ones closest to us: our families.
More specifically, our wives.
When couples come to us after uncovering porn use, the pollution of hurt and distrust can be thicker than the smog levels on a hot day in Los Angeles.
There are so many questions, but one of the biggest is: Why did he lie to me?
There are many reasons. I want to give you five.
And please realize that these aren't "excuses," nor do they make the lying okay; they're just legitimate reasons that might help you deal with the pain.
Reason #1: Fear of looking weak.
Fact: Most men don't like looking weak. We don't. And we especially don't want to look weak in front of our wives.
However, there is a common misconception out there that people who struggle with porn have some sort of inherent moral weakness. That basically there is a flaw in their character or DNA that keeps them from abstaining, because "if they weren't weak, they would just NOT LOOK like the rest of us."
However, this belief is a lie in and of itself and men who struggle with porn need to realize that. Yes, we are weak – but so is everyone else. Men who use porn aren't suffering from some sort of special weakness.
Reason #2: Fear of loss.
Hey, this is a legitimate concern. Men (especially Christian men) realize that when they come clean, they are taking a big risk. A risk that their "betrayal" may cost them everything they love.
But men, if this is you, realize it's always better for your porn use to be "brought" not "caught." Getting caught with your hands in the perverbial cookie jar is far more devastating to your spouse than finding out through humble and sincere repentance.
Reason #3: Fear of hurting or disappointing those we love.
This reason is unique because it is in many ways selflessly motivated. I've been there. Husbands don't want to hurt their wives (unless they are just awful husbands, but that's a whole different topic). They also don't want to disappoint their wives and, let's be honest, admitting porn use is hurtful and disappointing.
Men, while your motivation is altruistic (but ultimately self-serving), realize that your lies are even more painful and disappointing. Be honest and give your wife what she deserves.
Reason #4: Fear of looking like the "creepy" guy.
Again, another myth: that only creepy guys look at porn. Men don't want to be "that guy," especially in front of their spouse.
However guys, this is your opportunity to shed light on the truth. Regular guys look at porn. (Tweet This!) You don't have to be a creep to do it. Be part of the solution and not part of the problem.
Reason #5: Fear of getting our butt kicked.
This reason is by far the most regrettable. Unfortunately there are many men out there who lie because they just aren't ready to stop. They don't want to get their butt kicked and be forced to deal with their issues.
Guys, if this is you, there's not much I can say that hasn't been said already. You need to want freedom to find freedom. (Tweet This!) If you want porn, then most likely you will keep lying about it to your wife. And when your wife finds out, don't be surprised when she decides it's time to leave.
There are plenty of other reasons men lie about their addiction, but I believe these five are the most common.
Spouses, hopefully this gives you some insight.
Hopefully this will help with your healing in some way.
And guys, I know you have your reasons.
I know the idea of telling your spouse the truth is scary as crap.
But I assure you it's the best way.
Because at the end of the day, dishonesty sucks. And being on the other end of that dishonesty sucks even more. Even if you have your reasons.
---

If you are the spouse of a man struggling with pornography there is help for you too. His journey is yours also. Join an X3group JUST FOR SPOUSES and connect with other women just like you. Right now you can join any group and get your first 30 days for just $1.
The post 5 Reasons Your Husband May Be Lying To You appeared first on XXXchurch.com.